Vincom Center for Contemporary Art (VCCA) is a non-profit art center, sponsored by Vingroup JSC, with a mission to connect artists to the community, artworks to the public, and Vietnamese contemporary art to the global arts scene.
Equipped with infrastructure and facilities of international standards, VCCA develops on the basis of diverse artistic activities and attracts both domestic and international artististic talents.
VCCA aims to be an important art center of Vietnam and Southeast Asia.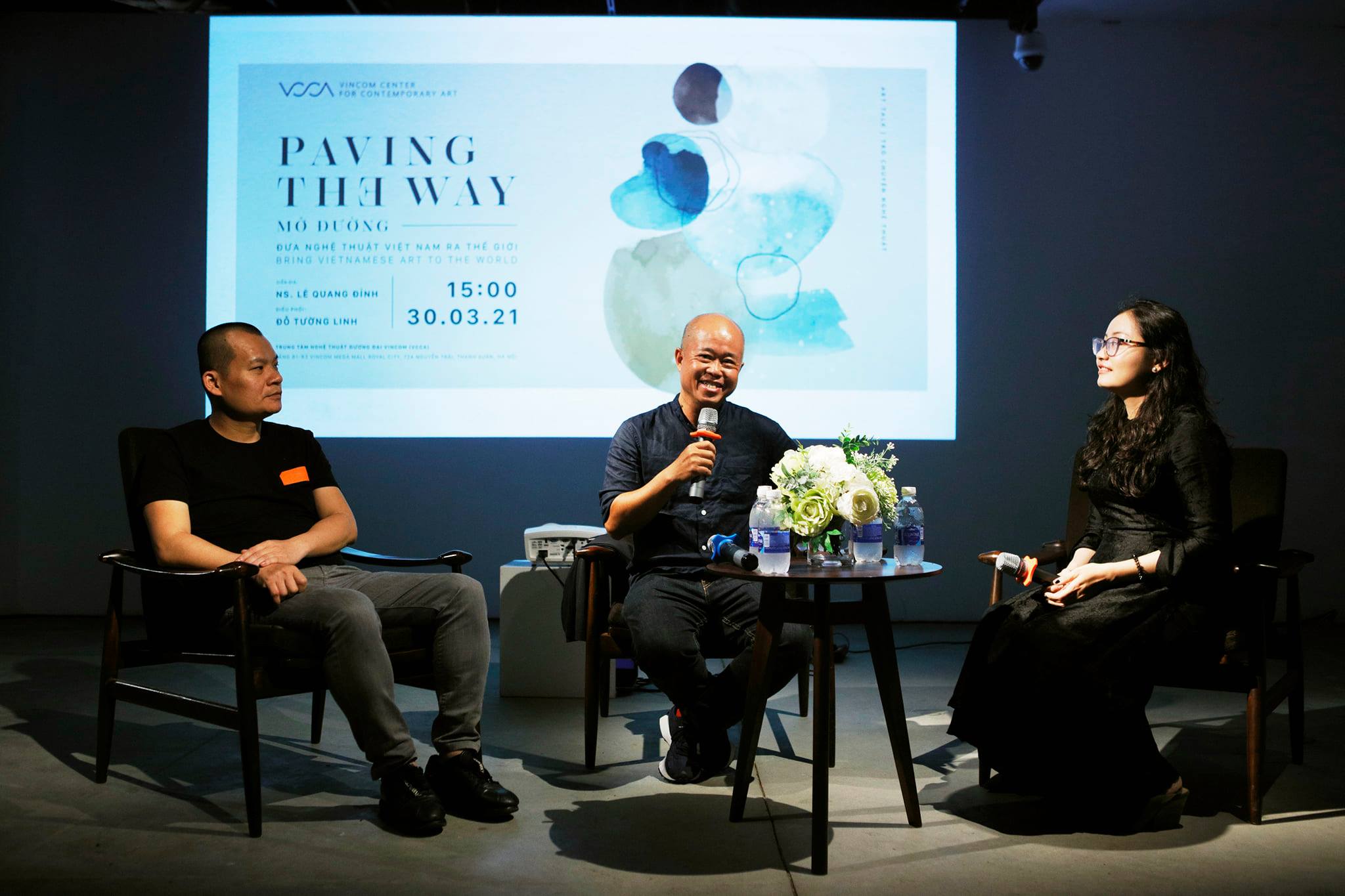 Executive board
Lê Quang Đỉnh (Dinh Q Le): Dinh Q. Lê was born in Ha-Tien, Vietnam. He received his BA in Art Studio at UC Santa Barbara in 1989 and his MFA in Photography and Related Media at The School of Visual Arts in New York City in 1992. In 1993, Lê returned to Vietnam for the first time and in 1996 decided to reside permanently in Ho Chi Minh City. Lê's work has been exhibited worldwide. Solo exhibitions to note include, Erasure, Sherman Contemporary Art Foundation, Sydney, Australia and Project 93: Dinh Q. Lê at MOMA, New York in 2010; A Tapestry of Memories: The Art of Dinh Q. Lê at the Bellevue Art Museum, Washington State in 2007 and Destination for the New Millennium, The Art of Dinh Q. Lê, at the Asia Society, New York in 2005. In 2007, Lê co-founded San Art with three other established Vietnamese artists in Ho Chi Minh City. In 2010, Lê was honored with an award from the Prince Claus Fund for his artistic practice and contribution to the development of contemporary art in Vietnam.
Hà Mạnh Thắng: Ha Manh Thang is one of Vietnam's most important young painters. He was also the only artist from Vietnam profiled in the Phaidon publication 'Painting Today' (2009) alongside acclaimed artists such as Gerhard Richter, Neo Rauch and Peter Doig. Having graduated from the Hanoi Fine Arts University in 2004, Thang has since held a number of notable regional and international exhibitions including Instruments of Meditation: Works of Art from the Zoltán Bodnár Collection, Reök Palace, Budapest, Hungary (2011); Connect: Kunstzene Vietnam, ifa Galleries, Berlin and Stuttgart, Germany (2009); The rain and the small stream presented by Ernst & Young's Asean Art Outreach program, Singapore (2008); and Post Doi Moi: Vietnamese Art After 1990, Singapore Art Museum (2008) and Shared Inspiration - Asian Art Exhibition, National Art Museum of China (2019).
Do Tuong Linh is a curator/ art researcher in Hanoi, Vietnam. Linh holds a BA in Art History and theoretical criticism from Vietnam University of Fine Arts and a MA in Contemporary Art and Art Theory of Asia and Africa at SOAS (University of London). UK with Alphawood scholarship. She has engaged in various art exhibitions and projects in Vietnam, Southeast Asia and Europe since 2005. She is a fellow researcher for Site and Space in Southeast Asia – a research project run by the Power Institute, University of Sydney, Australia funded by Getty Image Foundation, USA. She is also the representative of Vietnam to participate in many prestigious international cultural arts programs such as Ljubljana Graphic Art Biennial 2019, Slovenia; Association of Art Museum Curators conference, New York, USA; Mekong Cultural Hub 2018 – 2019, Taiwan; CIMAM International Museum Workshop 2018, Oslo, Norway; Asia Culture Center (Gwangju, Korea) 2018; Tate Intensive 2018, Tate Modern Museum, UK; French Encounter at Art Basel in Hong Kong 2018. … Some of her notable curated exhibitions include Citizen Earth 2020 (Hanoi, Vietnam), The Foliage 3 (VCCA, Vincom Center for Contemporary Arts, Hanoi, Vietnam) 2019, Geo-Resilience of the All-world at La Colonie (Paris, France) 2018, No War, No Vietnam exhibition at Galerie Nord (Berlin, Germany) 2018, SEAcurrents (London, UK) 2017.