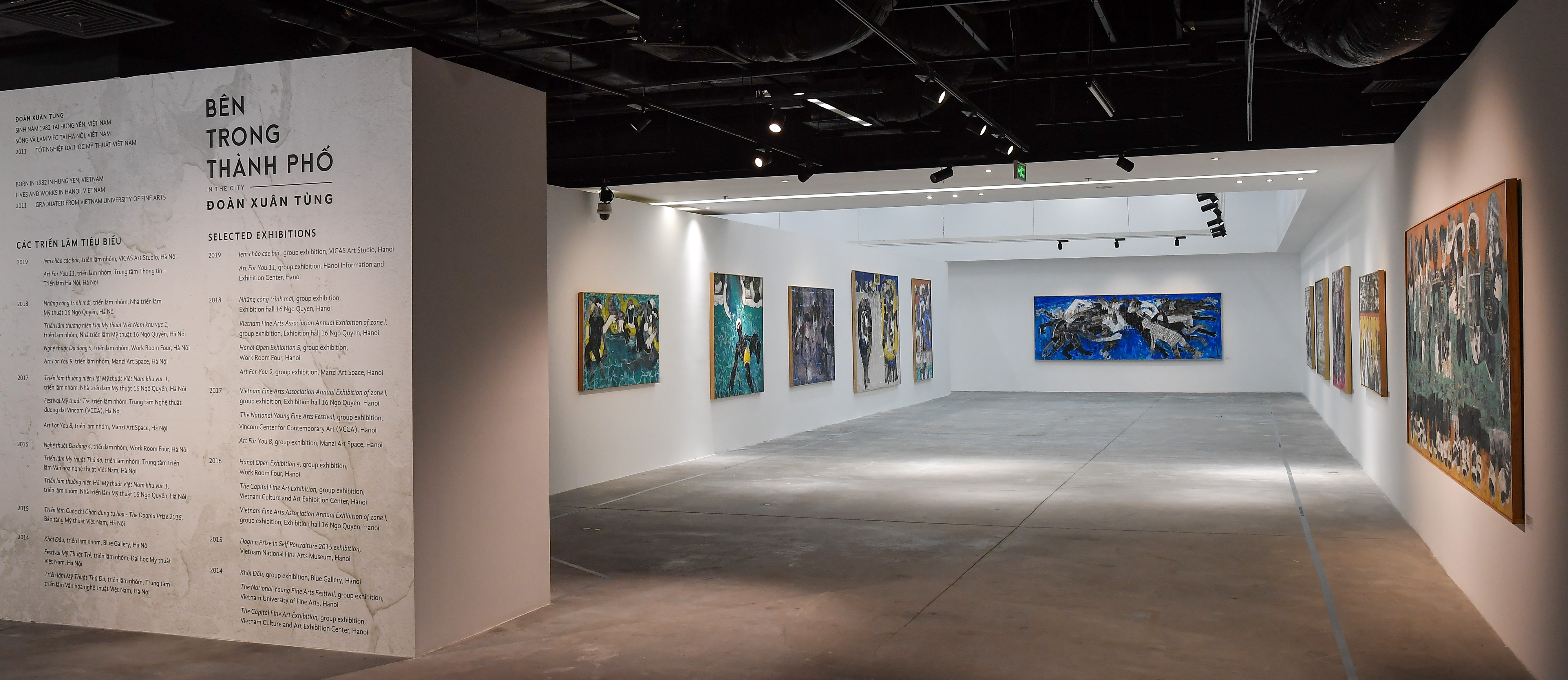 Exhibitions "In the City" and "Long Lasting Dreams"
Exhibition: 10 Sep – 16 Oct 2019 (Mon – Sun), 10 am – 8 pm
Vincom Center for Contemporary Art (VCCA)
B1 – R3, Vincom Mega Mall Royal City
72A Nguyen Trai, Thanh Xuan District, Hanoi
From VCCA:
On September 10, 2019, Vincom Center for Contemporary Art (VCCA) simultaneously opens 2 solo exhibitions introducing two prominent 80s-born artists of the Vietnam's art scene: "Long Lasting dreams" by Bui Quoc Khanh and "In the City" by Doan Xuan Tung. The two exhibitions are part of the VCCA 2019 Young Artists Incubation Program, which aiming to accompany and support young Vietnamese artists in their career.
"Long Lasting dreams" consists of 9 paintings on canvas – the latest works of Bui Quoc Khanh, created in 2019. Of social criticism, cultural, environmental, educational issues, and a visual language influenced by pop-art and graphic design, Bui Quoc Khanh's paintings depict a vibrant space overflowed popular metaphorical images of from ancient times to the modern age, from the West to the East. The motifs, the regal, flamboyant, materialistic images all across the canvas show the artist's satirical perception of today's society.
"Long Lasting dreams" is the second solo exhibition and also a milestone on Bui Quoc Khanh's art career. "These are my revelations on the Vietnamese social context with many issues, such as rural-to-urban migration, social and environmental problems, family and social morality being misinterpreted… All of this has become a dream that lasts forever and never ends," said Bui Quoc Khanh on the idea of ​​the title of the exhibition.
"In the City" is Doan Xuan Tung's first solo exhibition, showcasing 12 works using acrylic and newspaper as medium on canvas. This series of works was finished in 4 years, from 2016 to 2019, reflecting the artist's interest in the city life. The exhibition focuses on two main storylines: on the one hand, the daily life of city migrant workers, on the other hand, the lives of the emerging middle class – enjoying the utility of new residence areas. At the same time when these people were at ease, others are working to exhaustion, that is the contradicting yet inseparable reality of the city life.

On a special note, the newspapers pieces integrated sophisticatedly into 12 paintings, ensuring the aesthetics and still expressing the artist's interest in current affairs. "I use the newspaper as a historical material to reflect reality as authentically as possible. From a distance, you will see the whole picture, but when you look closely, you will read the news that show what problems our society is facing, what we care about", said Doan Xuan Tung.

Taking place at the same time at VCCA, two exhibitions "In the City" by Doan Xuan Tung and "Long Lasting dreams" by Bui Quoc Khanh promise to be an interesting dialogue of two artists of somewhat different personalities but with the same way of utilize Pop-art expression language as well as concerns about the modern society. Moreover, VCCA space has been arranged to create visual highlights for the audience. People can enjoy large, vibrant paintings at a sufficient distance, while the natural light from the light well on the paintings' surface could also creating impressive interactions.

"The two exhibitions are among the diverse activities of the VCCA 2019 Young Artists Incubation Program aiming to create opportunities for artists to approach the audience and familiarize themselves with the professional exhibiting environment. Bui Quoc Khanh and Doan Xuan Tung are outstanding and potential artists. Their different ideas, techniques and expressions will bring about interesting contrasts for the audience to see", said Art Director Mizuki Endo.

Bui Quoc Khanh (b. 1983)

Bui Quoc Khanh was born in 1983 in Hanoi, graduated from the Vietnam University of Fine Arts with a bachelor's and a master's degree in 2014 and 2017, respectively. He is currently a lecturer at Hanoi College of Arts. Bui Quoc Khanh's visual language has a vibrant palette of Pop-art influence, combining decorative style with rich details, meticulously and intentionally arranged, showing a satirical look on modern society. He has participated in many group exhibitions and art projects at home and abroad.

Doan Xuan Tung (b. 1982)

Doan Xuan Tung was born in 1982 in Hung Yen, and is now based in Hanoi. Doan Xuan Tung graduated from Vietnam University of Fine Arts in 2011. He often use acrylic colors combined with newspapers on canvas with a strong, liberal style expressing his concerns about the issues of the modern urban life. He has won awards from the Vietnam Fine Arts Association and participated in many prestigious exhibitions in the country.

"In the City" and "Long Lasting Dreams" are open for visit from 10 Sep to 16 Oct 2019 at Vincom Center for Contemporary Arts (VCCA), B1 – R3, Vincom Mega Mall Royal City (72A Nguyen Trai, Thanh Xuan District, Hanoi).