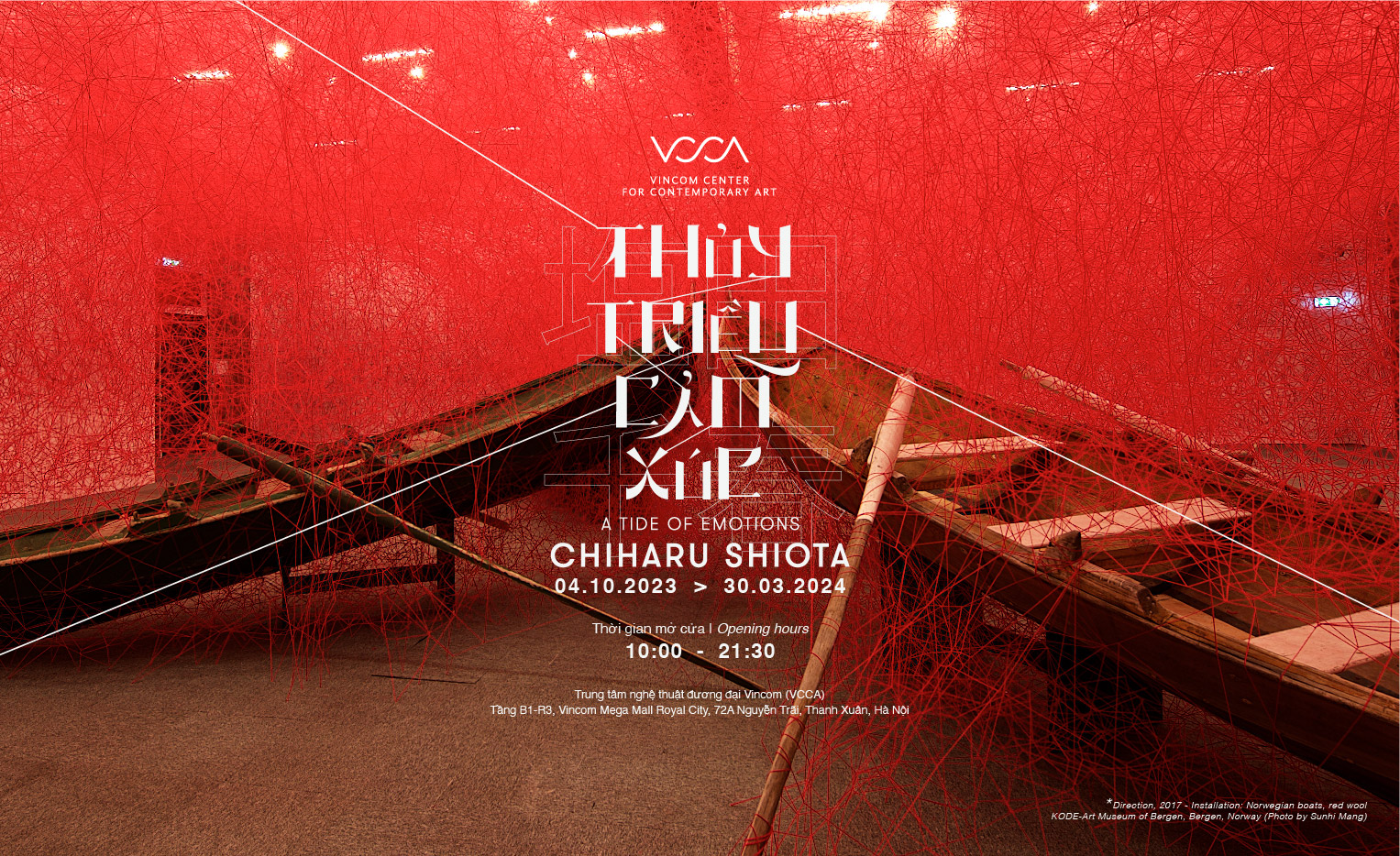 "A TIDE OF EMOTIONS" EXHIBITION BY ARTIST CHIHARU SHIOTA
♦️ Time: 10:00 - 21:30 | From October 4th, 2023 to March 30th, 2024

♦️ Location: Vincom Center for Contemporary Art (VCCA)

B1–R3, Vincom Mega Mall Royal City, 72A Nguyen Trai, Thanh Xuan, Hanoi

 

♦️ Exhibition ticket price:

100,000VND - For adult

80,000 VND - For student (applicable when presenting student card)

50,000VND - For kids (height from 1-1.3 m)

(Children under 1m in height are not admitted to the exhibition for safety reasons.)

 

♦️HOW TO BUY TICKETS:

PLEASE BOOK TICKETS ONLINE AT THE LINK HTTPS://BIT.LY/DATVETRIENLAM 

OR BUY TICKETS DIRECTLY AT THE RECEPTION DESK TO VISIT THE EXHIBITION.

 

From October 4th, 2023, Vincom Center for Contemporary Art (VCCA) will open the exhibition " A Tide of Emotions," introducing the installation of Japanese female artists to the Vietnamese public. Chiharu Shiota is one of the world's leading names in conceptual art.

 

Chiharu Shiota is among the most active and successful contemporary artists in the world today, whose works have been displayed in many prestigious museums and exhibitions in the region. She was chosen as the artist representing Japan at the 56th Venice Biennale (2015), one of the oldest and most reputable international art events in the world, held every two years in Venice, Italy. Chiharu Shiota is well known for her spectacular and elaborate large-scale installations, meticulously and skillfully woven from hundreds of thousands of threads, usually occupying entire spaces.

 

The exhibition "A Tide of Emotions" includes completely new works made at VCCA. Notably, the main work with the same title covers VCCA's massive space with a network of red threads, which are the representative material of the artist, linked to the wooden boats on the floor. Coming to the exhibition, the audience will enter a surreal space, connecting with a world full of memories and emotions.

 

Shiota's works are a convergence of beauty in both form and content, both making a strong visual impression and containing countless layers of deep meaning within. "A Tide of Emotions," which bears a relationship to essential, universal notions, will become a significant place for everyone and enable them to see the world in a different way.