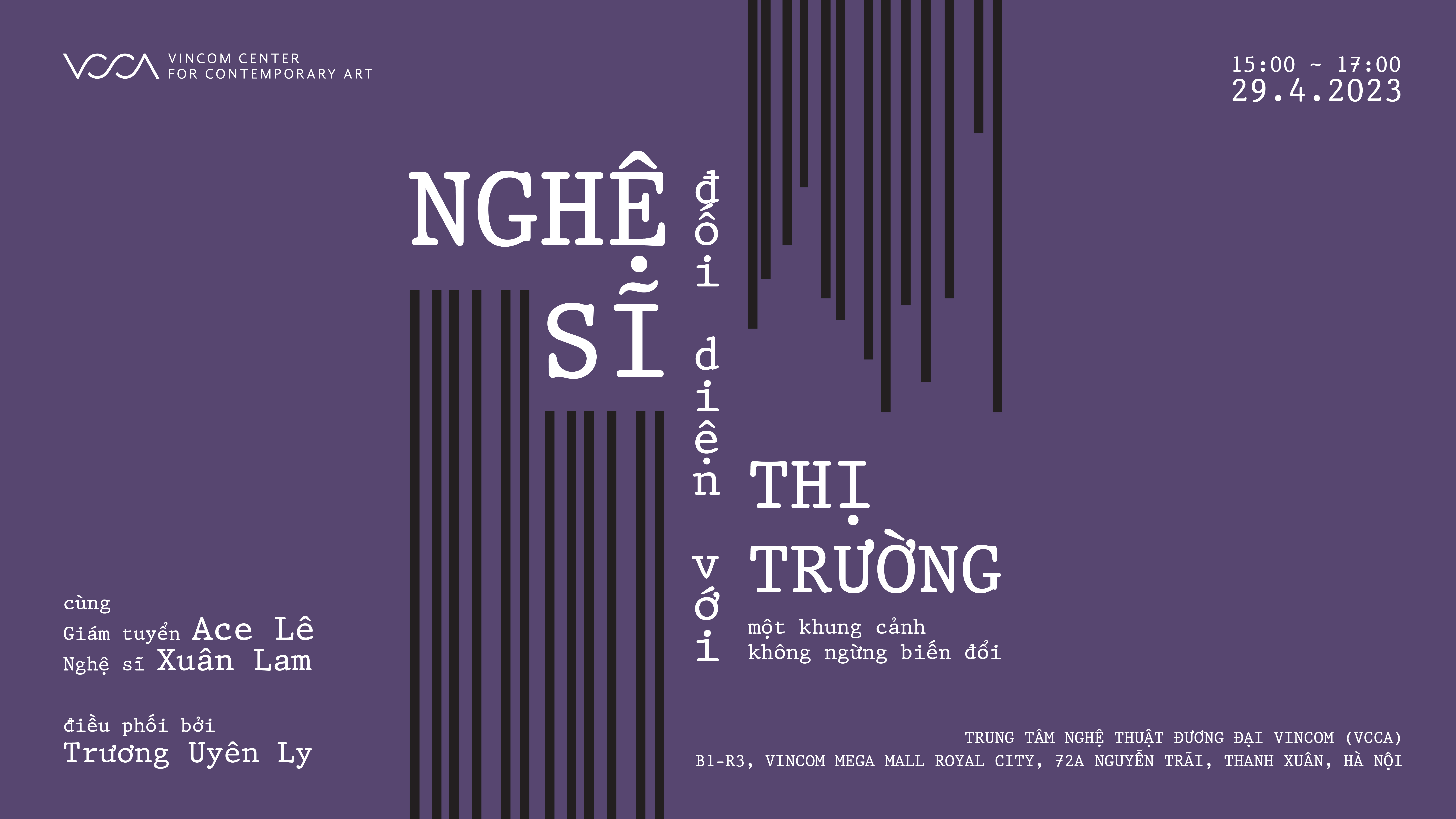 Talk : "Artists encountering the market – a constantly shifting scene"
Guests: Curator – art researcher Ace Lê; artist Xuân Lam
Moderator: Trương Uyên Ly
Time: 15:00 - 17:00 , Saturday 29th April, 2023
Location: Vincom Center for Contemporary Art (VCCA)
B1–R3, Vincom Mega Mall Royal City, 72A Nguyen Trai, Thanh Xuan, Hanoi.
---
VCCA is honored to host the talk: "Artists encountering the market – a constantly shifting scene" with the participation of curator and art researcher Ace Lê, artist Xuân Lam, moderated by Trương Uyên Ly.
The talk opens up a space for open and honest dialogue, bringing together art practitioner from different areas: artists, curators, and researchers to share information, insights, and practical experiences on career path development in relation to the domestic and international art market. The discussion will bring up diverse perspectives and ways of accessing and participating in the market, identifying challenges and opportunities to adapt to the constant changes and movements of the supply-and-demand system, as well as proposing directions for building and developing the art market in Vietnam.
---
Ace Lê is a curator and researcher specialising in Vietnamese art. He is Sotheby's first Country Head for Vietnam. In 2022, he guest-curated Sotheby's pioneering exhibition held in Ho Chi Minh City titled "Timeless Souls: Beyond the Voyage – Hồn Xưa Bến Lạ".

Ace is also Founding Director of the non-profit Lân Tinh Foundation, Editor-in-Chief of Art Republik Vietnam, a member of the Board of Advisory for Vietnam Contemporary Art Database (VCAD) and Vincom Contemporary Centre of the Art (VCCA). As a participant in the 2022-23 International Arts Leaders Program by the Australia Council for the Arts, he was a Resident Scholar at Queensland Art Gallery|Gallery of Modern Art (QAGOMA) in Brisbane. Ace co-founded the curatorial collective Of Limits who were the recipient of the 2020 Platform Projects Curatorial Award by NTU Centre of Contemporary Arts Singapore.

Ace holds a Master of Arts in Museum Studies and Curatorial Practices and a Master of Media and Communication from Nanyang Technological University, and a BBA(Hons) from National University of Singapore.

 

Nguyễn Xuân Lam (1993) is a visual artist who lives and works in Hanoi. His approach to art-making is a combination of a visual archaeologist and a DJ. With an art practice fused painting, collage, sculpture, and digital graphics – Xuân Lam's universe is a Rubik's Cube – with each side exploring forgotten aspects of Vietnamese heritage. His artworks overlapped in theme and referenced each other, creating an endless flow of culture and history.

Xuân Lam has been investigating Vietnamese folk paintings for the last seven years, with two solo exhibitions have come to fruition: "Folk Painting: The Remake" (2017) and "Rendezvous Between the Old & the New" (2019). Besides being an independent artist, he collaborates with local brands and participates in non-profit projects, aspiring to bring Vietnamese heritage as well as contemporary art closer to the youth and ordinary people. His works can be found in Hanoian public art projects, such as Phung Hung (2018), Phuc Tan (2020), and most recently, the installation of 36 lanterns at Hang Buom Culture and Arts Center (2022). Lam is one of the recipients of VCCA's "Young Talents Program 2022"

Invited by the Embassy of the Kingdom of the Netherlands, Xuân Lam created the Five-fruits tray in ceramic to celebrate 50 years of diplomatic relations between the Netherlands and Vietnam. His works have been awarded first prize and are in the art collection of the Embassy of Germany, the Embassy of Italy, and the Vietnam National Assembly. Xuân Lam received his BFA in Painting from the Vietnam University of Fine Arts (2016). He will get the MFA in Painting from the Rhode Island School of Design (RISD) with a Fulbright scholarship from the U.S. government.

 

Trương Uyên Ly is the director and editor-in-chief of Hanoi Grapevine – the pioneer media platform promoting arts and culture in Vietnam. She's also an independent consultant and researcher on developing creative culture space models. Uyên Ly has over 20 years of experience in media and storytelling. She believes art, comfort, and openness make individuals and society happier.