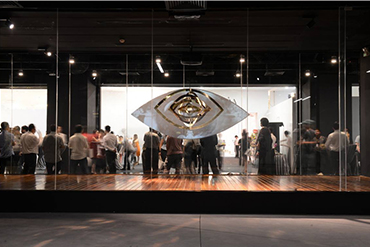 Center for contemporary art is launched in Hanoi
This is a large-scale non-profit center developed and sponsored by Vingroup.
Vincom Center for Contemporary Art (VCCA) launched on 6/6 aims to contribute and develop Vietnamese contemporary art.
VCCA located in the Royal City (Nguyen Trai, Hanoi) is a bridge to help art approach the public, inspire, contributeto the improvement of spiritual life in Vietnam.
Ms. Le Mai Lan - Vice Chairman of Vingroup (the second person from the left) and Dr. Mizuki Endo - Art Director (black shirt) cut the ribbon to launch VCCA.
VCCA focuses on three objectives: investment in conservation, museums to preserve Vietnamese cultural heritage and valuable in historical and artistic aspect; create playgrounds for artists to exhibit artworks in the form of professional art business; make a collection of valuable artworks of Vietnam.
In addition, the center also introduces valuable artworks and new artistic trends that contribute to the aesthetic orientation and the spread of art knowledge to the masses.
Artwork "Wishing Tree" of Yoko Ono is put near the entrance of the exhibition space. Visitors can directly interact by note down their wishes on paper then hang it on the tree.
With a total area of nearly 4,000m2 at Vincom Megamall, VCCA is not only a large-scale playground but also a unique art center with a display space filled with natural light in the ground.
In addition to the main exhibition area with the Skydome and a space which is flexible for each events, the center also features a video gallery, creative workshop, art class, library, tea house and storage… equipped with international standard air and humidity control systems.
According to the spirit of contemporary art, the VCCA is designed in minimalism, sophisticated style, is a space for displaying artworks expressing the language of composition, character and perspective of the artists.
Visitors contemplate the installation artwork "Eden Life"

VCCA operate in four seasons,  each season lasts 3 months with different themes of the exhibition and several educationl activities. The first exhibition is The Foliage, which takes place from 6/6 to 6/8.

As the first meeting of contemporary artists, The Foliage is the convergence of Eastern-Western dialogue, artworks in diverse styles arranged side-by-side, not chronologically or thematically but through the interaction between the specialized elements and architecture of the exhibition space.

VCCA's Executive Board and Advisory Council are well-known artists in Vietnam and other countries, aiming at bringing Vietnamese contemporary art approach the international market and becoming one of the most promising contemporary art centers in the area in the future.

With international scale and standard, VCCA is the foundation, contributing to the formation and development of national modern art and culture and at the same time creating a bridge for Vietnamese artists to actively participate in the art market in many countries in the world.

Painter Thanh Chuong shared: "The artists like us in decades long for an art center like this. It is a dream that we did not expect to come true. This motivates the artist to create high quality artworks. "

Thu Ngan - Vnexpress